In the morning it feels like spring the last two days, but then by late afternoon when we are really rolling, the students come out to work, and boom it is dark. Then you know it's almost all over!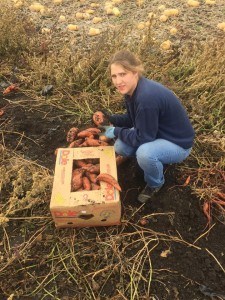 This time SIOUX CITY we would like to meet at the market location BUT at 4 to 6 pm. We did this last year too in November because the market season is over, we have no other reason to be there during the day time. IF you can not pick up your box between 4 and 6 pm tomorrow please contact John 712-490-8218 and we can work something out. Hopefully most folks can swing by on their way home.
Sioux Center we will be at the regular spot and for the regular time, I will bring some extra carrots, potatoes, sweet potatoes, squash for passersby or your friends that don't participate in our CSA yet!
Spencer, Barb is coming to the farm at 1:30 Wednesday so I anticipate that your shares will be at the salon by 3 pm. I am sure she will let everyone know via Facebook.
The share this week has some of the following;
sweet potatoes
carola potatoes
red radishes
spinach
brussel sprouts
butterhead lettuce
red kale
turnips
thyme
carrots
garlic
spaghetti squash
small onions
green pepper
Next time will be November 18.
I began work on building a new high tunnel yesterday to increase our early and late season capacity. It is a small one. It fits between the greenhouse (heated for starting plants) and the old hog house. It is important to me to get the ground posts in before frost. Once they are in, the ground can freeze up, and we can continue framing. We will likely not put film or plastic on until a warm day in the spring. I'd like a 70 degree day for finishing it so it's snug.
We have a large amount of sweet potatoes and carrots available. We have some potatoes, squash and cabbage too for storage. We are out of pork cuts and chicken 'til spring.
Thank you very much.
John and Janna